Join AIGA Philadelphia and The Soapbox for a zine making workshop during International Zine Month! In a world obsessed with bans and walls, everyone is welcome in the DIY space. Focusing on the idea of inclusion, participants will be encouraged to think about experiences of feeling included or excluded, welcome or unwelcome, in the spaces they inhabit. Pull up a seat and discover the origins of this low-tech, flexible medium while creating your own piece to share with the group. Open to zine newbies and practiced zineophiles alike!
About the Instructor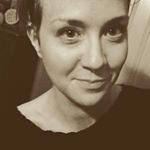 Katie Haegele is a writer and editor who has published three books and dozens of zines. She serves on the board of The Soapbox Community Print Shop & Zine Library in West Philadelphia, which hosts workshops, printing equipment access, readings and art exhibits, and a zine reading room . Katie believes passionately in the power of DIY media, and will talk about zines with anyone at any time.
Thanks to our sponsors!