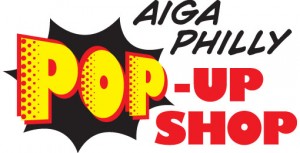 AIGA Philly Pop-Up Shop
Once again AIGA Philadelphia will be transforming AIGA Philly SPACE into a Holiday Pop-Up Shop for December into early January! Our awesome members will be selling their one-of-a-kind art, craft and design items in our Old City gallery, opening on First Friday, December 5, 6–9pm.
Participating vendors include:
Fabienne Banczak, photography, fabiennemphotography.com
Valerie Blassey, glass jewelry, ivytreedesigns.com
Matt Cavanaugh, prints and cards
Rose DiSanto, greeting cards
Marina Eyl, travel posters
Elizabeth Higgins, silver jewelry, lizidalena.com
Kevin Kernan, terrariums
Robb Leef, prints
Lenor Mirochna, greeting cards, paprikaletterpress.com
Clare Schaumann, greeting cards, caprilunadesigns.com
Alana Seggman, jewelry
Madeline Seton, greeting cards
Diane Zatz, sock dolls
…and more from AIGA Philadelphia SPACE!
We look forward to kicking off the holiday season and sharing our members work with the Philly community!
First Friday Reception
December 5, 6–9pm
Duration
December 5 – January 10
Address
72 North 2nd Street (at Arch Street) | Google Map
Hours
Thursdays | 3:00-7:00pm
Fridays and Saturdays | 1:00-7:00pm