We have an amazing group of board members at AIGA Philly and we want you to meet them all! Meet our Diversity & Inclusion Chair, Stacey Toseland. Stacey has led the implementation of variety of events for our chapter, like our first LGBTQ Mixer, Shani Sandy's recent talk on the B.O.L.D. Principle, an inclusion-focused zine workshop, and CoverGirls: an exhibition of women book cover designers. She's also well organized, fluent in French, and a fan of the shoulder shimmy.

What's your day job?
Senior Art Director at Health Union
What inspires you?
First and foremost, all of the amazing talent in Philadelphia. Also the many illustrators I follow on Instagram and my colleagues at Health Union.
Do you have a hidden talent? What is it?
I'm a master organizer. I'm also highly skilled at neglecting my house plants and juuuust missing my morning SEPTA train.
Tell us about a unique or quirky fact about you.
I'm fluent in French.
What are you listening to on Spotify these days?
Angel Olsen, SZA, Japanese Breakfast and others. Lots of strong female leads!
What was the last concert you attended?
Tennis at Union Transfer
Favorite typeface?
I work with a lot of hand drawn typefaces at work, but I'm probably more of a Futura girl at heart.
What do you love about AIGA?
(1) The fantastic community that inspires and encourages me, and (2) the work we're doing to bring equity and inclusion to our field and recognition to the many design voices who have not always been heard in our profession.
What did you want to be when you were a kid?
For the longest time, I thought I might want to be an architect. However, two weeks in an intro studio class in college cured me of that dream pretty quickly.
Who's your design superhero?
I have many, but at the moment I'm drawing the most inspiration from the fabulous writer and illustrator Maira Kalman, designer and community organizer Antoinette Carroll of Creative Reaction Lab in St. Louis, and Paola Antonelli, the Senior Curator of the Department of Architecture & Design + Director of R&D at MoMA.
If you were an ice cream flavor, which one would you be and why?
Something funky from Little Babies
Would you rather be a giant rodent or a tiny elephant?
A tiny elephant (I'm not sure what that says about me…)
If you could learn any skill, what would it be?
I would want to speak and understand every language so I could communicate with people around the world and hear the stories they have to share.
If you had a time machine, would you go forward or back in time?
Forward! I am endlessly curious about what our world will be like in the future.
What's your favorite GIF or meme?
I'm all about dogs doing silly things on Instagram.
What's your favorite book?
Hard-boiled Wonderland and the end of the World by Haruki Murakami
What's your favorite dance move?
I've recently discovered the magic of the shoulder shimmy, but if I'm being honest my dance moves probably look like this most of the time: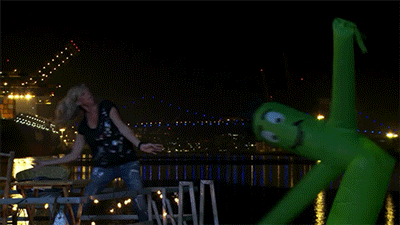 Anything else you want people to know about you?
I'm always open to grabbing coffee and talking, especially if you want to know more about AIGA's Diversity & Inclusion or Women Lead initiatives. Feel free to reach out to me with questions or comments at any time! 🙋🏻‍♀️