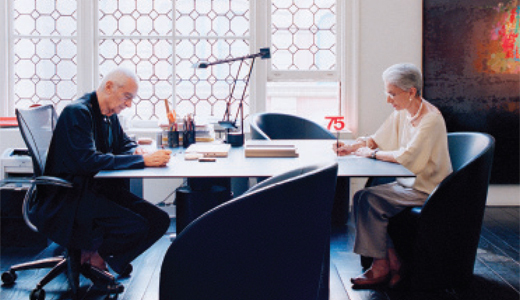 (Photo by Dean Kaufmann.)
Author Jan Conradi shares insights and ideas from her new biography of Massimo and Lella Vignelli. The Vignellis focused on a modernist philosophy of designing for a better society: resourceful use of space and materials, clear communication, lasting quality and logical functionality. The effectiveness of their approach is evident—Vignelli work: identity, maps, products, spaces and places—surrounds us. Can a Vignelli pattern of living and working help the rest of us counter our obsession with the Next Big Thing? 

About Jan Conradi 
Jan Conradi is Professor of Graphic Design at Rowan University in Glassboro, New Jersey. Her new book, Lella and Massimo Vignelli: Two Lives, One Vision, from RIT Press was released in July 2014. Her previous book, Unimark International: The Design of Business and the Business of Design, was published in 2010 by Lars Müller. When she isn't teaching design and typography or writing about design issues, Jan is active with her letterpress and freelance design studio.