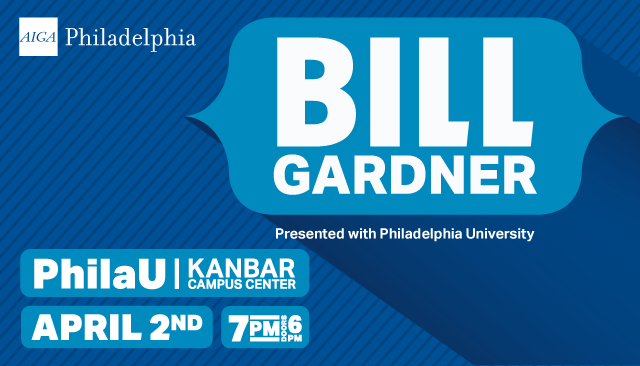 AIGA Philadelphia and Philadelphia University present a lecture by internationally recognized designer Bill Gardner, Thursday, April 2nd, at 7p.m. in the Kanbar Campus Center, located on the Philadelphia University campus.
Learn from over 20 years of award-winning work for a wide range of clients in one night. As an added treat, be on-hand as Bill unveils the 2015 LogoLounge Logo Trend Report in Philadelphia.
Can't make it PhilaU for all the design tips, eyecandy, and prizes? You can still catch the 2015 Trend Report section live! Just download the Periscope app, log in to Twitter, follow @logolounge, and click the link to watch at 8 p.m. on April 2nd. We reccomend buttered popcorn and a 'Gansett lager. 
When
Thursday, April 2nd, 7pm (Doors open 6pm)
Where
Kanbar Performance Space (in the Kanbar Campus Center)
Philadelphia University
4201 Henry Avenue, Philadelphia, PA 19144
Directions
Price
Non-Member — $20.00
Contributor — $16.00
Supporter — $12.00
Sustaining Member — $8.00
Design Leader — $4.00
Member Student — $5.00
Non-member Student — $10.00 
About Bill Gardner
www.gardnerdesign.com | www.logolounge.com
Bill Gardner is president of Gardner Design in Wichita, Kansas, and has produced work for a variety of clients including Cessna, Thermos, Pepsi, Pizza Hut, Kroger, Hallmark, Cargill Corporation, and the 2004 Athens Olympics. His work has been featured in Communication Arts, Print, Identity, Graphis, New York Art Directors, the Museum of Modern Art, and many other national and international design exhibitions.
As the founder of LogoLounge.com — the international, searchable compendium of logos submitted by the industry's leading designers from more than 100 countries — Bill authored the affiliated best selling LogoLounge Volumes 1-8 and Master Library Volumes 1-4 book series for Rockport Publishers.
Summer 2013 marked the release of Logo Creed, Bill's first foundation textbook for students, educators and professionals alike. Last year, Bill Gardner was honored with AIGA Wichita's first ever AIGA Fellow Award.
Bill also is the author of the annual LogoLounge Logo Trend Report, which identifies patterns and trajectories within the design industry and is published each May by a mix of international publications.
Sponsored By