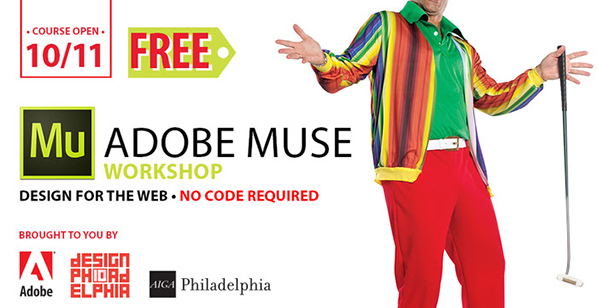 In April Clark's workshop, learn how to use the deep set of design and layout features in Adobe Muse to deliver professional, highly-designed websites that meet the latest web standards. This workshop is free to the public, courtesy of Adobe, DesignPhiladelphia and AIGA Philadelphia. 

What you'll learn
Plan your site with simple tools to add and rearrange pages, then use master pages to quickly apply elements across multiple pages and define site-wide properties. 

How to quickly build out the content of your site using layout tools similar to those found in InDesign. 

Understand the difference between web-safe, system fonts and web fonts. 

Easily add a wide variety of interactivity to your site including social buttons, site navigation, fully customizable slideshows, contact forms, and much more. 

How to create mobile and tablet layouts for your site. 

Preview your site in Adobe Muse or in your browser. 

Understand the different options for publishing your site, either with Adobe or with other hosting providers. 

Who should attend
Adobe Muse CC Workshop is perfect for designers who don't want to learn to write code, or those with clients who want fast, inexpensive website design. Adobe Muse allows you to lay out a website in much the same way you would create a document in Adobe InDesign. You have the freedom to design without restrictive templates, and because it's Adobe software, the familiar features and shortcuts reduce your learning curve. 

When 
Saturday, October 11 
10:00 AM – 12:00 PM 

Where 
The Center for Architecture 
1218 ARCH STREET 

Price 
Free, but registration is required. Seating is limited. No computers are required for the workshop.

Brought to in partnership with