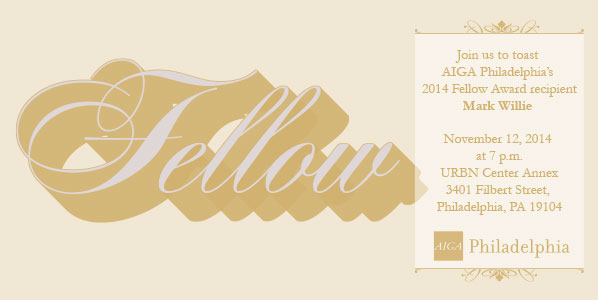 Join us to celebrate AIGA Philadelphia's 2014 Fellow Award recipient, Mark Willie. The AIGA Fellow award recognizes designers who have made a significant contribution to raising the standard of excellence in practice and conduct within their local or regional design community as well as their local AIGA chapter. 
A Celebration Befitting this Honor
The Fellow Award is the highest honor AIGA Philadelphia may bestow upon one of its members. This event will recognize Mark's significant contributions to the community and celebrate his accomplishments. We'll toast Mark's achievement with an evening of storytelling and conversation. Join the Fellow, their peers, students, the chapter board, and the AIGA Philadelphia community for this premiere event.
Schedule:
7:00 p.m. Doors open
8:00 p.m. Presentations by Mark and his peers
9:00 p.m. Reception with hors d'oeuvres, wine, and beer
RSVP by Nov. 11, 2014. Walk-ins will be accepted if room allows.
Early Bird Registration: Save $10 off your ticket price if you register by November 1.
Interested in sponsorship opportunities?
The biennial AIGA Philadelphia Fellow Award Celebration is one of the chapter's most premiere events and attracts an audience of notable community members and decision-makers. For details, contact Gina Kernan (gkernan@philadelphia.aiga.org)
About Our Sponsor

Drexel University Westphal College of Media Arts and Design
http://www.drexel.edu/westphal/