Congratulations to our AIGA Philadelphia Fellow for 2017, Allan Espiritu!
The AIGA Fellow award is the highest honor an AIGA chapter can bestow upon one of its members. It is a means of recognizing designers who have made a significant contribution to raising the standards of excellence in practice and conduct within our local and regional design community as well as in our Philadelphia AIGA chapter. The areas of education, writing, leadership and reputation, as well as the practice of design are given equal consideration in measuring significant contribution.
A longstanding member of AIGA Philadelphia for twenty years, Allan Espiritu, served our chapter as President from 2011–2013. In his tenure, our chapter opened our first headquarters, SPACE, a gallery in Old City. He was also instrumental in bringing the AIGA Leadership Retreat to Philadelphia in the summer of 2013. We are grateful for Allan Espiritu's continued support and involvement in our chapter and the local design community. Join us in honoring him at a party in May 2017 to toast to Allan's continued success. We will also host an exhibition of his work. Details to be announced soon. Congratulations, Allan!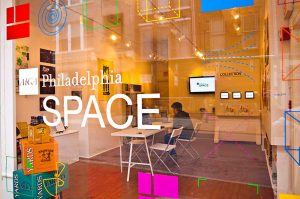 ---
About Allan Espiritu
Allan Espiritu, founder of GDLOFT PHL, is a Philadelphia-based, award-winning graphic designer and educator. Espiritu received his BA in graphic design from Rutgers University-Camden and his MFA in graphic design from the Yale University School of Art.
Espiritu's work has been published and acknowledged by AIGA, GDUSA, UCDA, Graphis, Communication Arts, Print Magazine, HOW, STEP, the Barnes Foundation, and the Art Directors Club. His work has also appeared in Gestalten and Rockport publications.
Espiritu heads the Graphic Design concentration program at Rutgers University-Camden. He served as President of the AIGA Philadelphia Chapter from 2011 to 2013, after serving as Programming Director and Vice President.
Allan's portrait by Eric Sison Photography.
---
AIGA Philadelphia Fellows
Mark Willie – 2014
Rosemary Murphy – 2012
Lanny Somesse – 2010
Laurie Churchman – 2009
Frank Baseman – 2008
Joel Katz – 2002
Ken Hiebert – 2001
Hans-U Allemann – 2000
Alina Wheeler – 1999