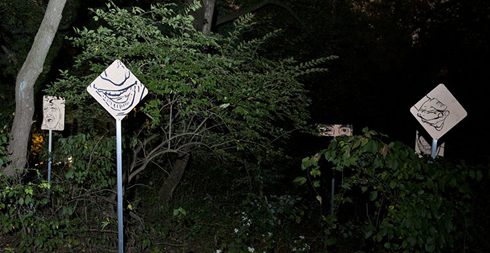 In the Woods: a solo exhibition by Nick Cassway
The Center for Emerging Visual Artists and AIGA Philadelphia presents In the Woods: a solo exhibition by Nick Cassway which presents a series of illustrations in the context of road signage. The shapes, stature and materials literally become "warning signs" which are scattered throughout a darkened gallery and discovered only with the aid of a flashlight or headlamp.
The drawings were made with Cassway's signature analog-to-digital-to-analog process and merge elements of fine art with commercial design, illustration and sign making. Hand-rendered drawings are expressed in computer cut black reflective vinyl (traffic engineering film) and mounted on matte black painted aluminum panels. The interactive exhibition allows visitors to move through a darkened gallery and discover the series of cryptic signs, which don't provide direction, but on the contrary, contribute one's sense of being lost. More information and images from this project at www.nickcassway.com.
For information on CFEVA's artists, programs and other exhibitions, please visit www.cfeva.org
Opening Reception:
First Friday | November 1, 6-9pm
Exhibition:
November 1-30
Address
72 North 2nd Street (at Arch Street) | Google Map
Hours
CLOSED THANKSGIVING WEEK
Wednesdays and Thursdays | 3:00-7:00pm
Fridays and Saturdays | 1:00-7:00pm
Making a special stop?
Please email ahead.